---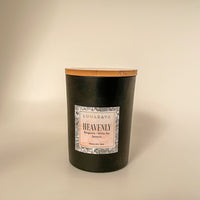 Heavenly | Soywax Candle
"Heavenly" Soy Wax Candle"
🕯️ **Fragrance Profile:**
"Heavenly" is an aromatic masterpiece that transports you to a state of serene bliss. It features a harmonious blend of fragrances, including:
- **Bergamot:** Known for its uplifting and citrusy notes, bergamot sets the stage for an enchanting experience.
- **White Tea:** This delicate and soothing scent infuses a sense of tranquility.
- **Ginger:** The warm and spicy undertones of ginger add a comforting element to the fragrance.
- **Jasmine:** A touch of floral elegance that completes this heavenly blend.
🔥 **Soy Wax Goodness:**
Our "Heavenly" Soy Wax Candle is crafted with 100% natural soy wax, making it an eco-friendly choice. Soy wax burns cleaner and longer than traditional paraffin wax, so you can enjoy the captivating aroma for extended periods, guilt-free.
🏺 **Ceramic Container with Bamboo Lid:**
The candle is elegantly presented in a ceramic container with a bamboo lid. This not only enhances the candle's visual appeal but also helps preserve the fragrance when the candle is not in use.
🕰️ **Burn Time:**
Enjoy hours of pure serenity with a substantial burn time, allowing you to unwind and relax in the soothing ambiance created by "Heavenly."
Create a heavenly atmosphere in your space and embrace the calming aura of this best-seller. Whether for your own sanctuary or as a thoughtful gift, "Heavenly" Soy Wax Candle is sure to elevate your sensory experience. ✨🌿