---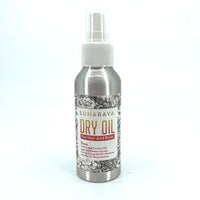 Rose | Dry Body Oil
Experience the ultimate nourishment and hydration for your body and hair with our all-natural Quick Fast Absorbing oils. Say goodbye to oily and sticky moisturizers that leave a greasy residue behind. Our unique formula is specifically designed to provide deep moisturization without the unwanted greasy feel.
Enriched with the exquisite essence of Rose Absolute, a potent and luxurious Rose essential oil, our product takes your moisturizing routine to a whole new level. This remarkable oil is known for its quick absorption properties, ensuring that it effortlessly penetrates your skin and hair, leaving them feeling soft, supple, and rejuvenated.
Indulge in the pure pleasure of our non-greasy moisturizer as it effortlessly absorbs into your skin, providing an instant boost of hydration. Feel the lightweight and fast-absorbing texture as it revitalizes your body, imparting a natural radiance that lasts throughout the day. Bid farewell to the discomfort of greasy residue and revel in the smooth, silky sensation that our moisturizer delivers.
Not only does our product cater to your body's needs, but it also works wonders for your hair. Pamper your locks with our non-greasy formula, which effortlessly nourishes and moisturizes each strand, imparting a lustrous shine. Say goodbye to frizz and dryness as our Quick Fast Absorbing oils transform your hair into a crowning glory of beauty and vitality.
Indulge in the sublime combination of all-natural ingredients, where nature meets science to provide you with the perfect moisturizing solution. Treat yourself to the luxurious feel of our Quick Fast Absorbing oils, knowing that you're using a product that is free from harsh chemicals and synthetic additives. Experience the blissful union of nature's bounty and modern skincare technology, tailored to bring out the best in your body and hair.
Elevate your self-care routine and embrace the non-greasy, non-sticky moisturization you deserve. Unlock the power of our Quick Fast Absorbing oils with Rose Absolute, and let the rejuvenating benefits unfold for your body and hair. Feel the difference and embrace a radiant, moisturized you, every day.