---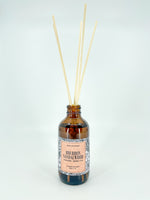 Bourbon Sandalwood | Diffuser
Introducing Our Bourbon Sandalwood Diffuser - 100ml (3.4oz)
Elevate your space with the warm and inviting aroma of our Bourbon Sandalwood Diffuser. This carefully crafted diffuser set includes 100ml (3.4oz) of our exquisite bourbon sandalwood-scented fragrance oil, as well as five reed sticks, making it the perfect addition to any room in your home.
**Product Highlights:**
🥃 **Bourbon Sandalwood Scent:** Our signature fragrance combines the rich, smoky notes of aged bourbon with the soothing, woody essence of sandalwood. This sophisticated blend adds an air of refinement to your surroundings.
📏 **100ml (3.4oz) Size:** Enjoy long-lasting aroma with this generous 100ml (3.4oz) diffuser, ensuring a continuous and captivating scent experience.
🌱 **Reed Sticks Included:** To get you started, we provide five reed sticks, which efficiently disperse the fragrance into the air, creating a welcoming atmosphere.
🏡 **Ideal for Any Space:** Whether it's your living room, bedroom, office, or any space you desire, our Bourbon Sandalwood Diffuser is designed to enhance the ambiance in your surroundings.
🌿 **Long-Lasting Aromatherapy:** Experience months of luxurious aromatherapy as the reed sticks soak up the fragrance and disperse it naturally, requiring no heat or electricity.
Transform your environment into a haven of sophistication and relaxation with the Bourbon Sandalwood Diffuser. It's the perfect addition to your home decor, and an excellent gift option for friends and loved ones.
Elevate your space with the captivating scent of bourbon and sandalwood – order your diffuser set today and indulge in a sensory experience like no other.