---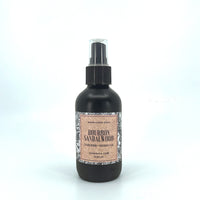 Bourbon Sandalwood Linen Spray - Eau de Toillete
Introducing our Bourbon Sandalwood Linen Spray - an exquisite Eau de Toilette that brings sophistication and warmth to your surroundings. Immerse yourself in the rich and intoxicating scent that perfectly balances the essence of bourbon and sandalwood.

Indulge in the captivating aroma of smoky bourbon notes, complemented by the woody and creamy nuances of sandalwood. This unique blend creates a harmonious symphony of fragrance that is both alluring and comforting.

With a single spray, our linen spray transforms any space into a haven of elegance and indulgence. Experience the inviting and comforting embrace of bourbon intertwined with the earthy and velvety tones of sandalwood, creating an ambiance that captivates the senses.

Elevate your home and linens with our Bourbon Sandalwood Linen Spray. Let the fragrance envelope your surroundings, leaving a lasting impression that is both refined and distinctive. Embrace the warmth and sophistication of this exquisite blend, adding a touch of luxury to every moment.

Unleash the power of scent and immerse yourself in the captivating allure of our Bourbon Sandalwood Linen Spray - an olfactory journey that is sure to leave an unforgettable impression.