---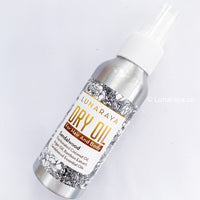 Sandalwood | Dry Oil fo Hair&Body
Indulge in the luxurious and enchanting scent of sandalwood while immersing yourself in the ultimate moisturizing experience with our Sandalwood | Dry Body Oil. This all-natural formula is carefully crafted with Quick Fast Absorbing oils, ensuring that your skin and hair receive unparalleled hydration and nourishment.
Immerse your senses in the captivating aroma of sandalwood, a fragrance renowned for its earthy, warm, and woody notes. Let the scent transport you to a place of tranquility and serenity, creating a soothing ambiance as you pamper your body and hair.
Our Dry Body Oil is designed to effortlessly penetrate your skin, leaving behind no greasy residue. Feel the lightweight texture as it glides smoothly and absorbs rapidly, instantly quenching your skin's thirst for moisture. Reveal a renewed and revitalized complexion that is soft, supple, and radiantly glowing.
Not only does our Dry Body Oil cater to your skin's needs, but it also works wonders for your hair. Nourish and rejuvenate your locks with this refined formulation, as it provides deep hydration without weighing it down. Experience hair that is silky-smooth, manageable, and infused with a captivating sandalwood scent.
The benefits of sandalwood essential oil extend beyond its delightful fragrance. Known for its soothing properties, sandalwood helps to calm and balance the skin, making it perfect for dry or irritated skin types. It promotes a healthy complexion by reducing inflammation and enhancing overall skin tone and texture.
Pamper yourself with the indulgence of our Sandalwood | Dry Body Oil, knowing that it is crafted with only the finest natural ingredients. Free from harsh chemicals and artificial additives, this product offers a pure and gentle solution for your skin and hair care regimen.
Treat yourself to a moisturizing experience like no other, as you immerse your body and hair in the captivating scent and benefits of sandalwood. Revel in the refined, non-greasy feel of our Dry Body Oil, and unveil skin and hair that exude natural beauty and radiance. Embrace the power of nature and elevate your self-care routine with our luxurious Sandalwood | Dry Body Oil.