---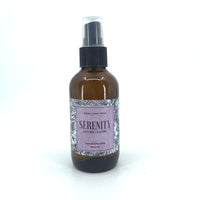 Serenity Linen Spray
Introducing Serenity Lavender Linen Spray: An Alcohol-Free Essential for Your Linen Clothing and Eau de Toilette.
Serenity Lavender Linen Spray is a delightful and refreshing fragrance designed to enhance your linen clothing and surroundings. Crafted without alcohol, this spray offers a gentle and soothing experience, leaving behind a captivating scent of lavender that creates a tranquil ambiance.
The scent of lavender in Serenity Linen Spray is known for its calming and relaxing properties. With just a few spritzes, you can transform your space into a serene haven, helping you unwind, relax, and find tranquility after a long day. The gentle notes of lavender work together to create a harmonious atmosphere that promotes a restful sleep, allowing you to awaken rejuvenated and refreshed.
This alcohol-free formula is specially crafted to be gentle on fabrics, ensuring that your linen clothing remains fresh and revitalized. Simply mist it onto your beddings, curtains, or clothing, and let the enchanting lavender fragrance delicately envelop your senses.
Serenity Lavender Linen Spray is your perfect companion when you desire a moment of peace and tranquility. Immerse yourself in the calming essence of lavender, and experience a renewed sense of relaxation and well-being.