---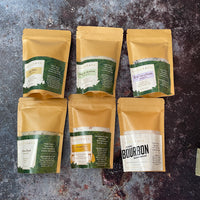 Ultimate Bathsalt Collection
Introducing our captivating Bathsalt collections, each designed to elevate your bathing experience with unique scents and indulgent ingredients.
Bali Vibes: Immerse yourself in the essence of a tropical vacation with Plumeria, Jasmine, Pandan leaves, and Rose. Every bath will transport you to paradise.

Matcha Jasmine: Experience the goodness of Matcha and the delicate aroma of Jasmine flower buds, infused with a refreshing citrusy twist. Let this blend rejuvenate your senses.

Give me a break!: Indulge in the Triple Lavender Sensation with Lavender, Lavandin, and Lavender buds. It's the perfect recipe for relaxation and a much-needed break.

Moondust: Unleash the ultimate body and soul healing with Eucalyptus, Camphor, Menthol, and the soothing blend of dried Calendula, Lavender buds, and Rose petals.

Cleopatra: Nourish your skin like Cleopatra herself with the luxurious combination of Rose, Milk, and Honey. Experience the epitome of indulgence and beauty.

Bourbon Sandalwood: Delight in the exquisite and woody scent of our most popular Bathsalt blend. Let the aroma of Bourbon and Sandalwood envelop you in pure relaxation.
All our Bathsalts are meticulously crafted using a combination of Epsom salts and Himalayan salts, renowned for their numerous benefits. Epsom salts help relax muscles and ease tension, while Himalayan salts are rich in minerals that detoxify and revitalize the body. Treat yourself to the rejuvenating power of nature with our enchanting Bathsalt collections and embrace a truly blissful bathing experience.